The Sanford Stem Cell Institute Symposium
The Sanford Stem Cell Institute Symposium is a two-day multidisciplinary event highlighting recent breakthroughs in regenerative medicine. 
This meeting brings together research and clinical experts to advance translational applications of stem cell medicine.
This symposium aims to bring together stakeholders from academia, industry, government, and the public to discuss developments in the field for turning stem cell-based therapies into approved products for patients in need. The program will highlight stem cell regeneration in several disease areas and interactive discussion panels regarding stem cells in space and stem cell clinical trials.  
October 20, 2022, 9:00 a.m. - 6:30 p.m. PDT
October 21, 2022, 8:00 a.m. - 2:00 p.m. PDT
Interested UCSD investigators, their research teams, academic collaborators, the scientific community, and the public are encouraged to attend.
Hosted by:
Catriona Jamieson, MD, PhD, Director of the Sanford Stem Cell Clinical Center and Chief of the Division of Regenerative Medicine
Alysson Muotri, PhD, Co-Director, Stem Cell Program
Our keynote speakers include:
Elizabeth Blackburn, PhD, Professor, UCSF Biochemistry and Biophysics
Derrick Rossi, PhD, CEO, Convelo Therapeutics 
Thomas Sudhof, MD, Professor, Stanford University
Register at: The 2022 Sanford Stem Cell Symposium
Agenda: events/sanford-stem-cell-symposium/2022-sscs-agenda
Program Booklet: SSCI Symposium Program Booklet
CALL FOR POSTER ABSTRACTS
The Sanford Stem Cell Clinical Center & UC San Diego Stem Cell Program are requesting abstracts for our upcoming Sanford Stem Cell Symposium. The deadline to submit abstracts is Friday, September 17, 2021.
Sponsorship Opportunities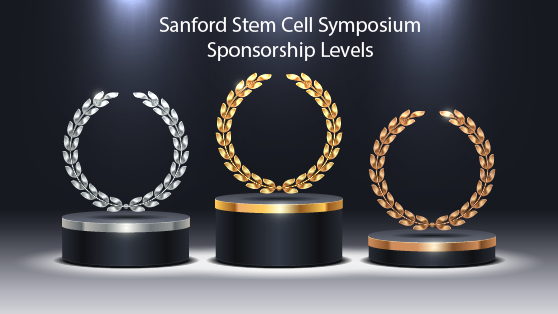 Gold – $7,000+
Company Logo and Name on Program: Mentioned in Opening and Closing Remarks* Promotional Materials* to be added to the program and displayed during coffee breaks/lunch breaks
Silver – $4,000-$6,000
Company Logo and Name on Program: Mentioned in Opening and Closing Remarks* Promotional Materials to be added to the program
Bronze – $1,000-$3,000
Company Logo and Name on Program: Mentioned in Opening and Closing Remarks
Please email drmsymposium@health.ucsd.edu